Show Notes
---
On this episode, Tiff's business continues to boom, Bella is on the box, Priest D birthday shenanigans and the Doc had a crazy night.
About 2 Dudes and a Chick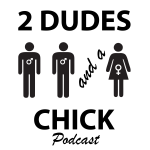 Two dudes and one chick giving you the real about Black living in the suburbs. Every Sunday, Dr. IJ, Priest D, and Tiffany wax about relationships, gender politics, and sex in the modern world.