Show Notes
---
On this episode, we celebrate Priest D and Tiff's anniversary. The happy couple talk about the key to having a successful marriage. We discuss the NBA boycott and the impact it has had on the world. We end the show talking about vacationing and creativity in a pandemic.
About 2 Dudes and a Chick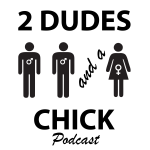 Two dudes and one chick giving you the real about Black living in the suburbs. Every Sunday, Dr. IJ, Priest D, and Tiffany wax about relationships, gender politics, and sex in the modern world.