---
On this episode, we talk about the Presidential Election Results and how America turned out to vote during this election. We talk about President-Elect Joe Biden's victory, President Trumps defeat and what our reaction has been to a week of ballot counting. We also talk about the new move in Doc's life and the upcoming premiere of his tv show.
About 2 Dudes and a Chick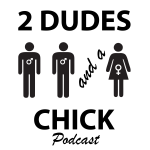 Two dudes and one chick giving you the real about Black living in the suburbs. Every Sunday, Dr. IJ, Priest D, and Tiffany wax about relationships, gender politics, and sex in the modern world.