Show Notes
---
On this episode, the crew recaps Nine's birthday party. Tiff has Priest D working for lunch on his days off. And the Doc watched Uncle Clifford get goosed.
About 2 Dudes and a Chick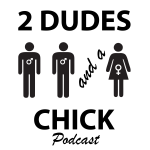 Two dudes and one chick giving you the real about Black living in the suburbs. Every Sunday, Dr. IJ, Priest D, and Tiffany wax about relationships, gender politics, and sex in the modern world.