Show Notes
---
The restaurant is a failure, but that doesn't stop the head chef Alistair from coming up with beautiful, onion based, delicacies. But, little does he know, the restaurant is just being used as a front for a drug cartel. As management attempts to revamp the business (and find a way to pay their employees) things take a turn for the worse.
Will Stacia keep things going in her favor with the drug dealing? Will Jerry turn the restaurant into what he's always dreamed of? Will Alistair cook something that doesn't contain onions? Find out as we hop into the brand new version of Fiasco for the first time!
CONTENT WARNINGS:
Drug Use, Terrible Bosses, Onion Travesty
Playset: In The Weeds (via the brand new version of Fiasco)
Check out the game Fiasco by Bully Pulpit Games
Guest: Rev from The Critshow
Promo: Side Character Quest
If you enjoyed the episode, want to support what we do, or just want to say hi, feel free to hit us up:
Website - http://www.rollingmisadventures.com
Patreon - http://www.patreon.com/rollingmisadventures
Discord - https://discord.gg/vFRpsEw
Twitter - http://www.twitter.com/rmisadventures
Merch - https://www.teepublic.com/user/rollingmisadventures
Check out our other shows:
Derek - LifeWorld
Charles - Talk & Roll
Megan - Oh No! Lit Class
Paris - Terrible Book Club
Part of the NoCo FM family. Hear more great podcasts at https://noco.fm
About Rolling Misadventures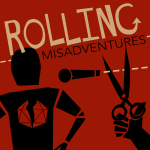 Rolling Misadventures is an improvised collaborative audio fiction podcast. Originally starting as an actual play podcast using the tabletop game Fiasco, Rolling Misadventures quickly evolved by utilizing audio fiction sound design elements. Thi...