Show Notes
---
As the crew settles down in a local graveyard for a Halloween themed porno, tragedy strikes. Lex Divine meets an untimely demise and it's all brushed under the shag carpet. After a quick recast, Cameron Fury hopes to get his big break moving from craft services by showing off his skills as a fluffer for the new lead Sammy Star.
That is, until, a paranormal happening interrupts their steamy romance.
If that wasn't strange enough, Summer Pie seems to begin having a Jekyll and Hyde situation whenever it comes to her scenes with her rival Destiny Quivers.
Will this spooky porn shoot overcome ghostly encounters, undisclosed potions, and the mourning of a lover?
CONTENT WARNINGS:
NSFW (seriously), Poorly Acted Pornography Parodies, Depictions of Sex, Horror Tropes
Playset: A Haunted Porno
Check out the game Fiasco by Bully Pulpit Games
Guest: Kamijace from The Weekly Cooldown
Promo: Ignorance Was Bliss
Sponsor: Encounter Party!
If you enjoyed the episode, want to support what we do, or just want to say hi, feel free to hit us up:
Website - http://www.rollingmisadventures.com
Patreon - http://www.patreon.com/rollingmisadventures
Discord - https://discord.gg/vFRpsEw
Twitter - http://www.twitter.com/rmisadventures
Merch - https://www.teepublic.com/user/rollingmisadventures
Check out our other shows:
Derek - LifeWorld
Charles - Talk & Roll
Megan - Oh No! Lit Class
Paris - Terrible Book Club
Part of the Loudspeaker family. Hear more great podcasts at https://www.loudspeaker.fm/
About Rolling Misadventures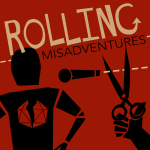 Rolling Misadventures is an improvised collaborative audio fiction podcast. Originally starting as an actual play podcast using the tabletop game Fiasco, Rolling Misadventures quickly evolved by utilizing audio fiction sound design elements. Thi...