Show Notes
---
After the spectral lovebirds run off to have some fun, the rest of the crew begin to piece together what's actually going on in this graveyard porn. As Summer looks back to her previous tape to realize that she's not in control of her thirst, she joins up with Sammy and Cameron to help blow the lid off of things. Realizing that an occult dildo could reveal the ghost for all to see, the group makes an effort to retrieve it.
Will our scantily clad performers be able to save the day? Is ghost banging really where it's at? Find out as we wrap our story up like a mummy.
CONTENT WARNINGS:
NSFW (seriously), Poorly Acted Pornography Parodies, Depictions of Sex, Horror Tropes, Possession
Playset: A Haunted Porno
Check out the game Fiasco by Bully Pulpit Games
Guest: Kamijace from The Weekly Cooldown
Promo: Occulting (3) 15 by Boston Harbor Horror
Sponsor: Encounter Party!
If you enjoyed the episode, want to support what we do, or just want to say hi, feel free to hit us up:
Website - http://www.rollingmisadventures.com
Patreon - http://www.patreon.com/rollingmisadventures
Discord - https://discord.gg/vFRpsEw
Twitter - http://www.twitter.com/rmisadventures
Merch - https://www.teepublic.com/user/rollingmisadventures
Check out our other shows:
Derek - LifeWorld
Charles - Talk & Roll
Megan - Oh No! Lit Class
Paris - Terrible Book Club
Part of the Loudspeaker family. Hear more great podcasts at https://www.loudspeaker.fm/
About Rolling Misadventures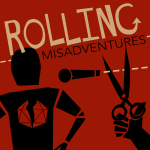 Rolling Misadventures is an improvised collaborative audio fiction podcast. Originally starting as an actual play podcast using the tabletop game Fiasco, Rolling Misadventures quickly evolved by utilizing audio fiction sound design elements. Thi...