Show Notes
---
Our racers have finally made it to Dubai and what better way to start things off other than with a race? After some trash talk and a very sudden explosion leaves everyone questioning what's really going on, Cash learns that his found family with Greg is stewed in lies.
Without the aid he sought, Agent Greeves moves forward with the plan to find the hidden element himself. Until the real villain behind the scenes makes himself known.
Will our racers finish this story in one piece?
CONTENT WARNINGS:
Cancer, Car Accidents, Death, Depictions of Military Weapons
Playset: The Hasty and The Hateful
Check out the game Fiasco by Bully Pulpit Games
Guests:
Ty from Side Character Quest
Scottye from A Load of BS!, The Many Adventures of Sammy Magic, and Fun Fiction
Sponsor: Dice Envy (Use promo code "misadventures" to save 10% on your dice order)
If you enjoyed the episode, want to support what we do, or just want to say hi, feel free to hit us up:
Website - http://www.rollingmisadventures.com
Patreon - http://www.patreon.com/rollingmisadventures
Discord - https://discord.gg/vFRpsEw
Twitter - http://www.twitter.com/rmisadventures
Merch - https://www.teepublic.com/user/rollingmisadventures
Check out our other shows:
Derek - LifeWorld
Charles - Talk & Roll
Megan - Oh No! Lit Class
Paris - Terrible Book Club
Part of the Loudspeaker family. Hear more great podcasts at https://www.loudspeaker.fm/
About Rolling Misadventures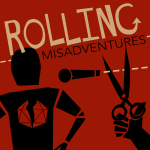 Rolling Misadventures is an improvised collaborative audio fiction podcast. Originally starting as an actual play podcast using the tabletop game Fiasco, Rolling Misadventures quickly evolved by utilizing audio fiction sound design elements. Thi...