---
On this episode, we talk about the Capitol riots. We also talk about our outlook for 2021 and what we learned from 2020.
About 2 Dudes and a Chick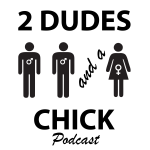 Two dudes and one chick giving you the real about Black living in the suburbs. Every Sunday, Dr. IJ, Priest D, and Tiffany wax about relationships, gender politics, and sex in the modern world.