---
On this episode, Tiff is still obsessed with her new dog, Nine went viral, kids are never going back to school, and the potential of a looming civil/race war.
About 2 Dudes and a Chick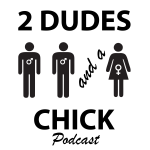 Two dudes and one chick giving you the real about Black living in the suburbs. Every Sunday, Dr. IJ, Priest D, and Tiffany wax about relationships, gender politics, and sex in the modern world.