Show Notes
---
On this episode, the crew discuss their plans for Thanksgiving in the face of COVID. We also discuss Friendsgiving and Priest D has 3 questions he would like to ask.
About 2 Dudes and a Chick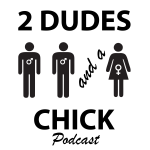 Two dudes and one chick giving you the real about Black living in the suburbs. Every Sunday, Dr. IJ, Priest D, and Tiffany wax about relationships, gender politics, and sex in the modern world.